I'm so eager for this tag. I don't make it well known, but I am a diehard fan of Julie and the Phantoms. So when Phoenix @ Books With Wings tagged me in a JULIE AND THE PHANTOMS BOOK TAG, of course I'd reschedule a bunch of posts to do it! (Check out Phoenix's post! It's really fun, and she has so many fantastic books on there!).
Rules
🎤 Link back to the original post (and also Sarah's booktube account)!!
🎸 Thank whoever tagged you!!
🎸 Answer the prompts!!
🥁 Tag some friends to share the awesomeness!!
🎹 Go watch Julie and the Phantoms on Netflix (and sing every song like it's your last performance on stage)!!
Synopsis
Julie lost her passion for music when she lost her mom. But when three ghostly guys appear and lift her spirits, they decide to start a band together!
Netflix's synopsis doesn't give the show justice. The show is about 15 year old Julie who's mother died, taking Julie's love for music with her. But then when she plays a CD of a band from 1995, 3 ghosts appear in her garage, terrifying her. But then she finds out that they're nice ghosts! Yay, now they're in a band together and best friends. And other stuff happens.
Okay, so I'm bad at explaining. Sue me.
Anyway, here's the tag;
NOW OR NEVER: A book at the top of your TBR
I was just gifted this book and I've been wanting to read it for the longest time. This will be my first book by Laini Taylor, and I've heard really exceptional things about it. I'm so excited to start it.
Wake Up: A book you were hesitant to read
I've got to be frank, I didn't really think I'd read Scythe. Even though a favorite teacher of mine recommended it, I didn't think I'd like a dystopian book. But I did read it, and loved it. So I it worked out.
This band is back: A sequel you waited a long time for
There's an abundant number! (Find my not released yet shelf here). And I can't chose between these two, so I'm choosing both! The Aurora Cycle #3, which would be the final book in the series. There's not even a title, but even though book #2 was released 2019. Aurora Burning ended on the biggest cliffhanger in the history of huge cliffhangers but there's not even an expected release date. And also, Nowhere (Skyward, #3). For those of you who know me, you know I absolutely loved Skyward, and the 2nd book ended on a cliffhanger, and I NEED the 3rd book within the year (which probably won't happen.) What is it with sci-fi authors ending the 2nd book of the series on a cliffhanger?
Bright: A book that took you by surprise
I know I'm probably not supposed to do the same book as the person who tagged me, but this was the only one I could think of. The Hand on the Wall was fast-paced and unpredictable, and I was stunned when we found out who the true murderer was.
Wow: An action packed book
I'm gonna say Renegades for this one. It was so action-packed and fast-paced, and I loved it, especially for the entertainment it provided. I love how many fights and action scenes there were, but it still had it's share of meaningful scenes.
Flying Solo: A book with incredible friendships
This was my first book by Jeff Garvin, and I'm really impressed. I loved, LOVED the friendships in this book, and how amazing the characters were. I loved Solo and Riley's friendship, and how Solo stood up for Riley.
I Got the Music: A book that got you out of a reading slump
This one was hard, but I think Cinder by Marissa Meyer. I rarely get into reading slumps, but around November 2020, I couldn't find anything good. But then I read Cinder, and loved it.
The Other Side of Hollywood: A book with a great ensemble of characters
AHH, I know Phoenix also put this, but Six of Crows' characters were so amazing and well-developed, so it's understandable to put this. If you haven't read Six of Crows, get out of here. Just kidding, but you need to read it. And also, the SHADOW AND BONE TV SHOW. I swear, I'm gonna die of excitement. And also, sorry to the people who have read about me ranting about how excited I am about the show, it's just . . . KAZ'S CANE AND JESPER'S WINK AND OMG INEJ'S ASSASSINY STUFF . . . AND I'M GONNA SCREAM WHEN I SEE THEM ON TV. Not joking.
All Eyes on Me: The prettiest book in your collection
There are so, so many, but I think I'm gonna choose Skyhunter by Marie Lu. It was either Skyhunter or The Inheritance Games by Jennifer Lynn Barnes, but I think Skyhunter has a gorgeous cover. I literally can't get over how beautiful it is. Just look at it;
Perfect Harmony: Your favorite OTP
I HAVE TOO MANY. I DON'T KNOW. I LOVE PERCABETH AND NODRIAN AND KAIDER AND . . . EVERYONE!
Having too many OTP's is a real problem.

– Ritz @ Living, Loving and Reading, 2021
Edge of Great: A book that is (almost) perfect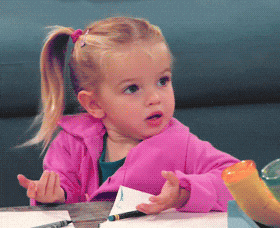 This is IMPOSSIBLE. I don't know. There are too many 4.5 Star books. If I could choose between 2, I would choose Aurora Rising and maybe The Inheritance Games? They were both amazing, but not absolute favorites of mine.
(And yes, I know I used a GIF from Good Luck Charlie. So what if I loved the show?)
Unsaid Emily: A book that made you cry
It is extremely rare that I cry when watching a TV show or movie, or reading a book. I've only cried at one movie; A Dog's Journey. And for books, the only book I've ever cried at was The Fault in our Stars. (Mild spoilers now); And that wasn't even at the . . . death, but when Hazel was yelling at her parents that she knew that they wouldn't be parents anymore once she died, and that she was sorry for that. But even that was only tears in my eyes. I think I was just being particularly emotional that day 😂.
You Got Nothing to Lose: A villain you love to hate
I got this one! QUEEN LEVANA. I hated her so much when reading this series, but reading Fairest honestly made me feel bad for her. In case you don't know her, Levana is the main antagonist of the Lunar Chronicles by Marissa Meyer.
(Art by Laura Hollingsworth)
Stand Tall: A book that gave you the feels
I DON'T HAVE ANY, OKAY? I guess I'm just an emotionless reader and don't have a heart. I mean, maybe it could be The Fault in our Stars, because I cried *actually cried* when reading that so . . . maybe?
I'm low-key sad I can't find anything for this one because Stand Tall is one of my favorite songs of the show.
Now, I'm gonna tag 2 people who I know love the series. If I don't tag you but you still LOVE Julie and the Phantoms, put it in the comments below! I want to interact with fellow JATP fans! As for if you *shudder* haven't watched the show . . . Get out of here and watch it. Just kidding (again), but seriously, watch it. It's an amazing show.
So, I tag;
Tada! So that's it for the JATP book tag. Put your thoughts on this post or the show in the comments!