What's it About?
A fresh, irresistible rom-com from debut author Emma Lord about the chances we take, the paths life can lead us on, and how love can be found in the opposite place you expected.

Meet Pepper, swim team captain, chronic overachiever, and all-around perfectionist. Her family may be falling apart, but their massive fast-food chain is booming ― mainly thanks to Pepper, who is barely managing to juggle real life while secretly running Big League Burger's massive Twitter account.

Enter Jack, class clown and constant thorn in Pepper's side. When he isn't trying to duck out of his obscenely popular twin's shadow, he's busy working in his family's deli. His relationship with the business that holds his future might be love/hate, but when Big League Burger steals his grandma's iconic grilled cheese recipe, he'll do whatever it takes to take them down, one tweet at a time.

All's fair in love and cheese ― that is, until Pepper and Jack's spat turns into a viral Twitter war. Little do they know, while they're publicly duking it out with snarky memes and retweet battles, they're also falling for each other in real life ― on an anonymous chat app Jack built.

As their relationship deepens and their online shenanigans escalate ― people on the internet are shipping them?? ― their battle gets more and more personal, until even these two rivals can't ignore they were destined for the most unexpected, awkward, all-the-feels romance that neither of them expected.
Author: Emma Lord
Series: None
Genre: YA Contemporary/Romance
Format Read: ebook
Final Rating: 4 Stars
Review
This book was adorable. There is no other way to describe it. I loved so much about it; the writing style, the romance, the dynamics, the characters. I will definitely be reading more of Emma Lord in the future.
Tweet Cute is a YA contemporary romance based around two 17 year olds, Jack and Pepper. Both their parents own restaurants, and, to put it simply, Pepper's family's restaurant is accused of stealing a beloved recipe made by Jack's grandma. A Twitter war breaks out, with Jack and Pepper themselves behind the snarky insults.
"It's weird, how you have no idea how far you've come until suddenly you can't find the way back."
There were a lot of things I enjoyed about this book, but first of all, I really liked how realistic Jack and Pepper were. Pepper was under the pressure of her mom to be a straight-A student in a high school for gifted teens, maintain being the swim team captain while also having to be on Twitter 24/7 because of her mother expecting her to reply to Jack's family's restaurant's tweets. I feel like a lot of people could relate to Pepper and her stress because of the pressure her mom put on her, like I did. I found it refreshing that her relationship with her mother wasn't perfect and that Pepper acknowledged the fact that her mother put a lot of pressure on her. I feel like that isn't present enough in YA contemporary, and it should be, because it makes it much easier for readers to connect to the character. I also liked Jack, and his want to be free of the future his family has pressured onto him. Jack wants to do something different than what his parents do, what his parents want him to do.
"I don't want this. But the problem is I do, and I don't, and my feelings are still way too tangled for me to be able to say I don't want to spend my whole future in this place when I also can't imagine a future without it. It's dumb, but I wish for a stupid, childish second I could just stay like this forever."
I loved the side characters; especially Pooja and Paul. They're so supportive, and just awesome people in general. Also, I found it really fresh that these high school characters actually had homework. Every single contemporary romance I read, it's as if school exists, but homework doesn't. Maybe that's a small thing, but it still served to make me relate to the characters more. And as always, I loved the POC and LGBTQ+ representation in this book.
Another thing I really enjoyed in this book was the romance. Jack and Pepper were just acquaintances at the beginning of the book, and they slowly became friends, to having feelings for each other. I really liked how it took a while for them to like each other. But, despite that, I really, really wish this had the enemies to lovers trope. I actually thought did, before I read it, then I was quickly disappointed by the friends to lovers. Though I still really enjoyed it, I wish Jack and Pepper's relationship had a bit more development in the friendship category. Don't get me wrong— I loved the actual romance, but I didn't really like how they just hit off and became close friends. But while the friendship of Jack and Pepper went too fast, the pacing of this book was perfect, and I never felt the need to skip over parts, or reread so things would make sense.
"Um, is the apartment on fire?"
"Nope," I mutter, crossing the kitchen to shut the oven off, "just my life."
Something else I loved was the family dynamics and realism of the families. Jack's family was so great, though I didn't like Ethan. But at the same time, I liked how Jack's parents weren't perfect, and he disagreed with them at times. I also loved, loved, LOVED Pepper's relationship with her mother, as I've said before, their relationship was rocky, what with Pepper wanting her mother's satisfaction in her and her accomplishments, yet at the same time wanting her mom to not stress her out so much. And, as I've said before, SO many people can relate to that. Parents aren't always super amazing, understanding people when it comes to their kids. It's so relatable that Pepper could also understand that, and I loved how the author incorporated little things into the book that were small, yet made huge differences.
"I've just assumed there were certain directions my life was going to take. The safe kind. The kind everyone else was taking, and I plowed through with a vengeance. It hasn't been easy, but it hasn't been brave either. The idea of actually straying from it is either thrilling or terrifying, the two feelings swallowing each other and spitting each other back out before I can settle on one."
But, I have one thing that I thought wasn't really great; the fact that this whole book revolves around Twitter and social media, but Jack and Pepper don't seem stressed out about it at all. It would make sense that they would feel anxious about the whole thing, but they don't. Especially when this very bad thing happened, and it felt like they didn't even care. This would have been the perfect place to touch on the fact that social media can cause a lot of anxiety, but the author didn't, instead focusing on school stress, which is understandable, but the only thing that wasn't very realistic.
Overall, a great read. The writing, the story, the romance, were all really amazing. Emma Lord is gonna become a bestselling author.
I should probably go and read Heartless now. My library loan is gonna be over soon.
But first, I wanna go and eat a grilled cheese. (What? All this talk of food and desserts is making me hungry.)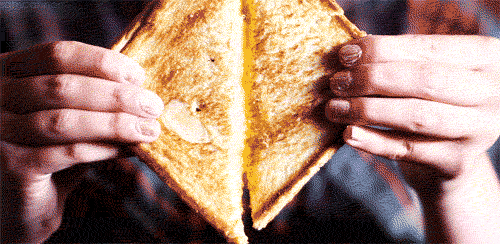 What did you think of Tweet Cute if you read it? If you didn't read it, do you want to? Leave your thoughts in the comments below!